We get asked "what is car detailing?" all the time, so we thought we'd answer. The term "detailing" was initially an American term that floated across here probably in the early 90s. We all wash our cars, or have our cars washed. Whether it's because it's illegal to drive around in a car where your number plates are that filthy you're unable to read your registration number, or that you actually care about your car and your paint.

There are levels to cleaning a car, though. Tiers, if you will. So, when does cleaning your car become "detailing"? The process of cleaning your car can be known as a simple wash, a valet, or a detail, but what's the difference?

Your general car wash will take up the form of a wash and vac, which will involve a shampoo wash (of the whole car including wheels and tyres), a dry off using a towel to stop any water spots or streaks, and sometimes a spray wax. That's pretty much as far as it goes, unless you go to a fancy car wash place and they offer you an air freshener – that (more often than not) smells like cheap lemony household cleaning products.

Car valeting is a step up. It's basically any offering you see at a car wash. There'll be different cost levels from wash, dry and wax – much like the above, but with a little more attention to detail – and we mean "a little", door shuts will also be included, if you're lucky. There may even be vac and dash polish in the mix, which will cost you a little bit more, but you'll get a full hoover and a wipe down of all surfaces including leather seats. If any of you have ever had this done, you'll know the quality of products used; they can often be slippery and greasy – not what you want on your leather seats or steering wheel. If you opt for a top of the range valet, you'll often receive a polish to the paintwork, as well a clean to the windows (inside and out). These options can range from anything up to around £75.

So where does it all overlap into "detailing"? Well, detailing is when it goes deeper than what's on top of the paint. Following a snow foam (to remove any loose contaminants) and a good thorough wash (using the two-bucket method) a clay bar will be used to remove embedded contaminants in the paint, such as tar, tree sap or anything that's buried deep enough not to be removed by your wash stage. We advise before any clay baring, to feel the surface of your paint – if it's rough to the touch then (even if you can't see any problems) you have embedded dirt that should be removed.

Much like a valet, there are different tiers to a car detail. Depending on the level of detail you require, you may even decide to go down the compound route to further smooth the paint. This will often involve the use of a machine polisher (usually, a fixed rotary polisher will be used, but a dual action can be a bit gentler on thinner paint). This system helps to remove any imperfections while polishing the paint's surface, leaving a swirl-free finish. Machine polishers remove fine lines in paint, swirl marks and even orange peel, making the car look even better than when it left the factory. Once all this is complete, a detailer will finish all paintwork with the application of a good wax or sealant. This is to protect the work conducted, but also increase the longevity of the finish they've just spent so long on achieving.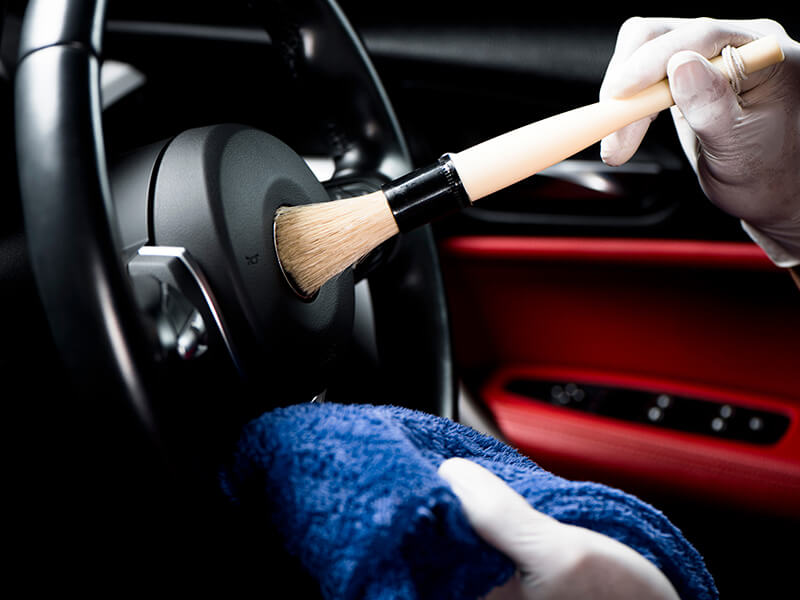 When cleaning wheels, detailers take it one step further and often remove the wheels from the car enabling them to get to the back to clean hard-to-reach areas, while cleaning up the brakes and inner components such as the inner arch lining.
On the inside, detailers will vacuum all areas, as well as employ the use of a carpet shampoo to remove any stains. Other surfaces such as upholstery, trims and headlining, will also be wet cleaned. They will often use special brushes, much like our hog hair ones or compressed air, to clean any vents or dials found in the car. Windows and seals will also be attended to. Seats, whether leather or cloth, will be worked on with very specific products to the material. If leather, detailers often finish with a leather protector.
Depending on the level of detail required, engine bays may also be worked on.
Detailing is about getting the absolute best look for your paintwork and surfaces. A clean or a valet is about making sure all surfaces are, well, clean – they don't really take into account embedded dirt or swirl mark issues, or the fading of paint. Detailing delves much deeper than that, enabling you to get re-spray finishes, without actually having to fork out for a full re-spray of paint. In our opinion, it's the attention to detail that defines you as a "detailer", fully covering every "detail" of a car.
We take pride ourselves in the standard all our vehicles are presented for sale, but if you would like us to detail a car for you, we are surrounded by the achievements.